Premium Coated Bond 2" Core
Premium Media is a favorite to play a crucial role in your color management strategies. Use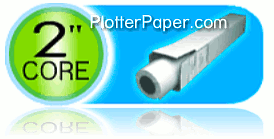 it to get the absolutely best combination of color gamut, durability, dry time, finishing options, and other key attributes with your specific printer, inks, and RIP.
PlotterPaper.com's Premium Color Bond Media has been through rigorous testing over and over. In 21 years we have seen this paper used by the best. Colors respond with a pop and have given our Premium Coated Color Bond a reputation of color imagery flare. Its brilliant color snap and fast dry time has set in motion a new quality industry standard.
We hear from customers it is both the range of color imagery or fast dry time that makes it favored.