20lb Untaped Paper Rolls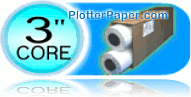 20 LB, laser media is an economical sulfite bond for checkplots and non-permanent applications. This all purpose paper is excellent for detailed printing and imaging. Our products are designed to meet the productivity requirements of your equipment no matter which brand or manufacturer you use; from low volume to high output production systems.
Perfect for copying maps, architectual and construction plans...even graphic design artwork Designed for xerographic copiers including: OCE, XEROX®, KIP and all other wide format laser printers
Weight - 20LB.

Opacity - 91%

Brightness - 92

Caliper - 3.9MIL

Smoothness - 150

Core - 3

Outer Diameter: approx. 6-1/4—6-3/8"